A Google Trick
By Edward Bain
Effect: The Magician while browsing the internet brings up a Google search engine on the computer screen. The Magician instructs a spectator to watch the screen carefully and then lightly places two fingers on the computer monitor screen, just over the two "O"s in the Google logo. When the Magician's fingers are removed from the screen the two "O"s in the logo have vanished. The magician then invites the spectator to place his fingers on the screen and magically the "O"s reappear upon the Logo.
This Google Trick is brought to you by the DEVILSTRAMPINGGROUND.com
"A website to Send Shivers Up Your Spine!" Kate Russel BBC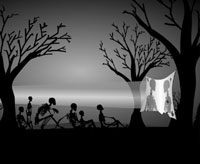 You can take a wander through the Devil's Tramping Ground for interactive thrills, but make sure all of your lights are on. Legend has it that the grounds are the real-life "thinking spot" for the King Of Evil himself. You can also make a date with the siren of sin "The Banshee," and pull in for a visit at Maco Station, where the toy trains always seem to derail, for a peek at the "Maco Lights"
"If you're in the mood for scary, animated fun, tramp over to the Devil's Tramping Ground -- an online graveyard of dark, and at times interactive, Flash animations from the very active imagination of Ed Bain. Several Flash treats await you upon entry, all of which are based on historic stories from the 1800's." FILMTHREAT.COM